Meetings:


Methow


Thursday, March 1, 7:00 PM
Twisp Eagles Hall

NCATV Club
Tuesday, March 6, 6:30 PM
WSDOT, 28862 Hwy 97, Okanogan
Officer Nominations

Events/Rides:
Lost Member Ride
Saturday, April 7, 10:00 AM
Conconully

Work Parties:
Trail Work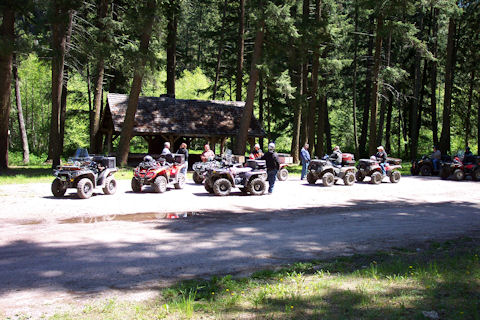 Rock Creek Shelter
ATV Etiquette - Sharing Our Trails
Responsible trail enthusiasts, both motorized and non-motorized, have much in common. They have an appreciation for our public lands and want to enjoy what our public lands have to offer. Trail sharing can and does work when people respect each other and work cooperatively to keep each other safe.
Let someone at home know where youíll be riding and bring a cell phone for emergencies.
Be prepared for unforeseen circumstances.
Bring it in, pack it out.
Donít drink and drive.
Know and follow state and local regulations including current WATV/ORV tabs, lighting, horn, mirrors, helmets, eye protection, driverís license, proof of liability insurance and access passes, where applicable.
Obey all rules applicable to automobile traffic.
No cross country travel. Stay on designated roads and trails.
Respect trail restrictions and only use trails open to your mode of transportation.
Be considerate of others on the roads and trails.
Slow down when sight lines are poor.
Use caution when approaching or overtaking other recreationists.
When riding in a group and approaching traffic from the opposite direction use your fingers to indicate how many riders are behind you.
Yield the right of way to those passing you from behind or traveling uphill.
Upon opening a closed gate make sure the last person in your group closes it.
If you come upon horse riders or ranchers herding their cattle pull over to the side of the road and turn off your engine until they pass.
Clean your vehicle after a dayís ride to help prevent the spread of noxious weeds.